On view: The Remains of Cinema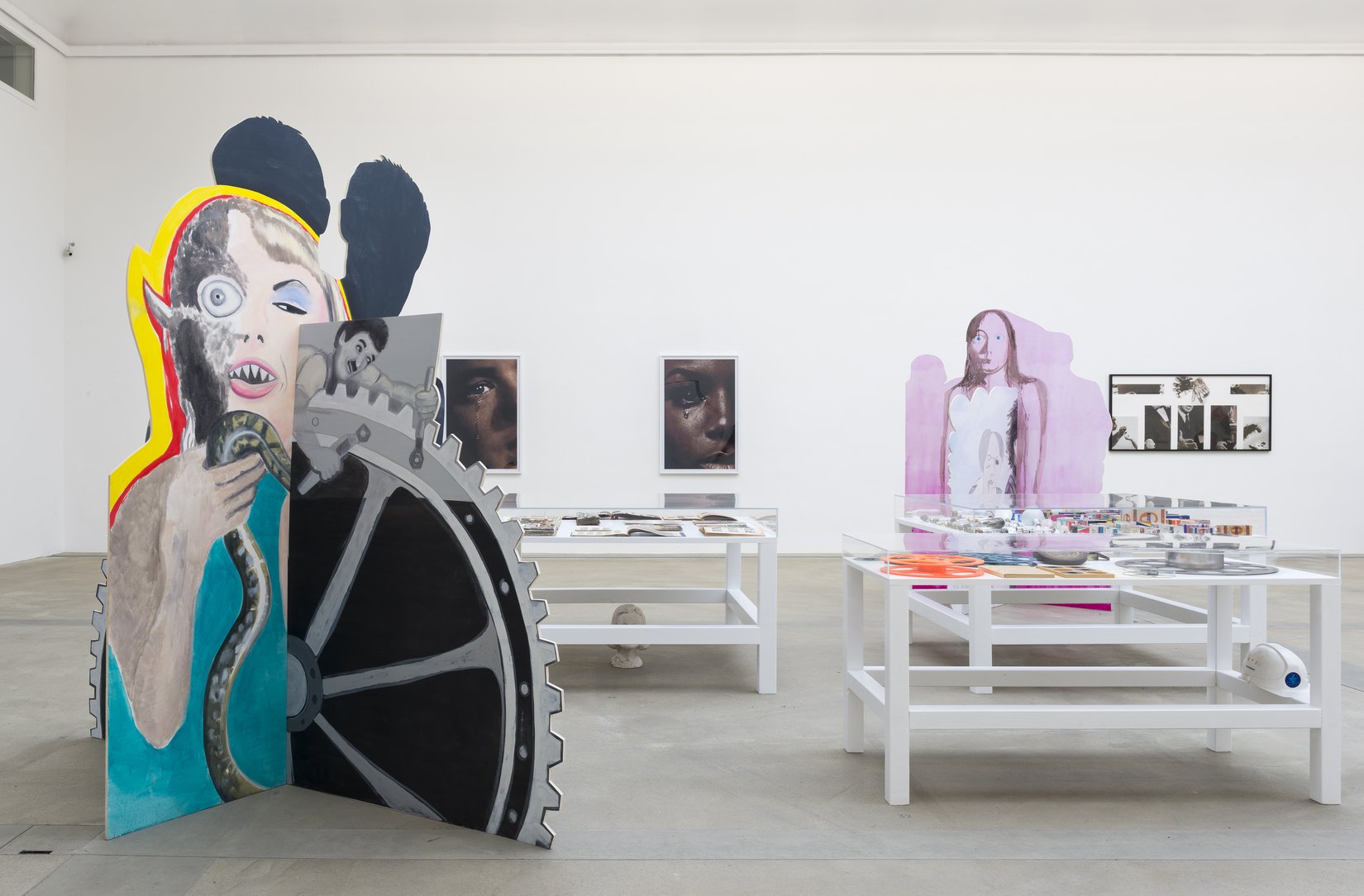 A walk through our current exhibition "The remains of Cinema"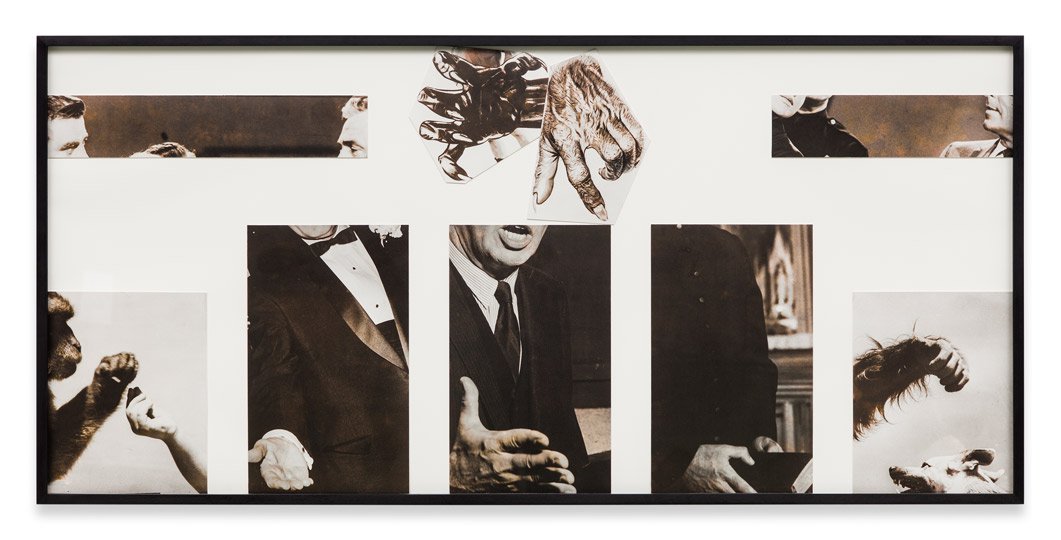 John Baldessari, Space between: Glad hands, 1986
Black-and-white photograph, 184.5 × 183.5 cm / Courtesy Private Collection, Paris, & Sprüth Magers, Berlin
The most influential American conceptual artist John Baldessari (b. 1931 in National City, lives in Santa Monica) has continually worked on collaging and newly arranging film stills. He explores the mechanisms of media-based representation by associating images with text, but also with other images. Moreover, he covers parts of image sections with colored and blank surfaces, thus gauging how elements mutually react. In the case of the work exhibited in the exhibition, he selected hands—and the spaces between them—as source material for his artistic treatment. The enigmatic work in landscape format shows the hands of people, but also of apes and monsters. The centrally positioned monster claws are the only image sections not cut off at a right angle, causing them to strongly dominate the composition. The strictly symmetrical, black- and-white piece is not typical for the artist.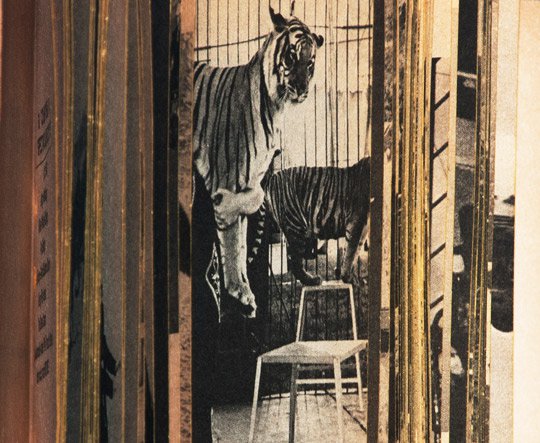 Erica Baum, Tiger (Naked Eye), 2015
Archival pigment print, 45.72 × 37.47 cm / Courtesy Mr. & Mrs. Bonnin, Paris
The US photographer Erica Baum (b. 1961 in New York, lives in New York) belongs to the so-called Pic- tures Generation and, in her work, explores the materiality of images and texts. In the series shown in the exhibition, the artist takes color photographs of slightly opened magazines and books about lm, thus affording unusual, seemingly voyeuristic perspectives into the inside of the book. It seems as if the photographed, printed works are even leading a secret inner life of their own. Baum always selects black-and-white photographs as templates that express strong emo- tions. By taking photos of the books as pictorial carriers, the book's pages appear as vertical lines while the images, severely distorted in terms of perspective, remain barely discernible. The artist is strongly in uenced by Concrete Poetry and views her work as a contemporary form of visual (image) poetry.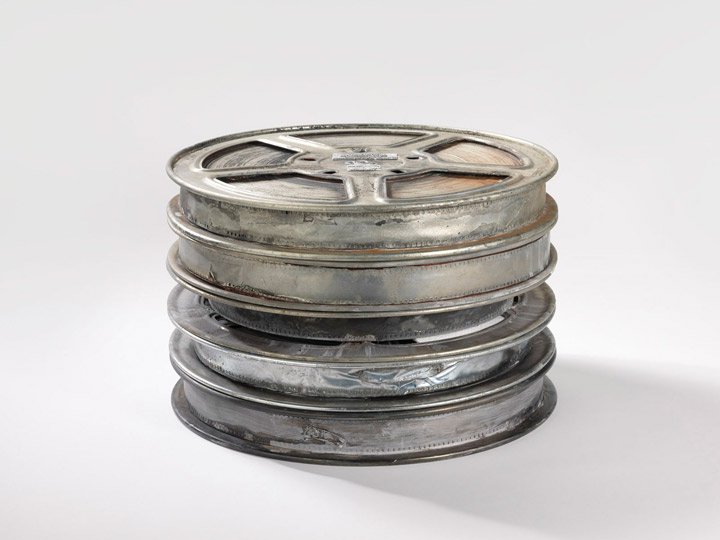 Joseph Beuys, Das Schweigen, 1963 Ingmar Bergman
5 original film spools, galvanized, 25 × 38 × 38 cm / Courtesy Deutsches Filminstitut, Frankfurt am Main / Gift Hanns Eckelkamp
The German conceptual artist Joseph Beuys (b. 1921 in Krefeld, d. 1986 in Düsseldorf) ultimately silenced the dystopian movie The Silence (b/w, 1963) by Ingmar Bergman (b. 1918 in Uppsala, d. 2007 in Fårö) by coating five film reels with zinc and copper, repurposing them as a sculpture of the same name. This intervention made the film unshowable. Beuys intended to store its "spiritual energy" like in a battery and to enter into a dialogue with Bergman's work. Applied to each of the film rolls is a metal plaque featuring its title on which Beuys adds his own comments on the titles of the five acts in the movie. The oppressive Bergman film sparked a scandal due to some of the sex scenes, which at the time were considered too liberal, bringing along a debate about censorship. In the psychodrama, two sisters are stranded at a bizarre hotel in a strange town where an unfamiliar language is spoken.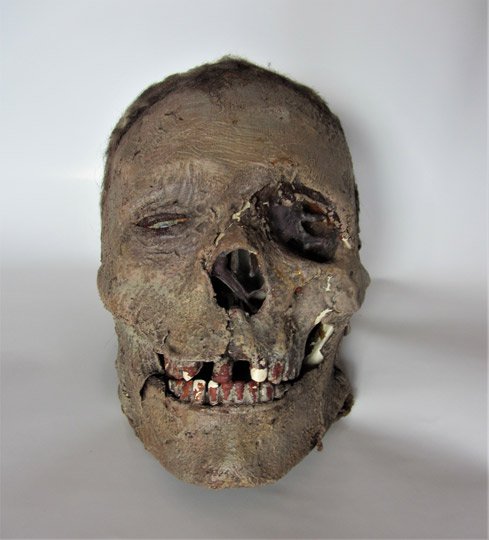 Jörg Buttgereit, Corpse head from Nekromantik, 1987
Prop by Daktari Lorenz and Jörg Buttgereit, plastic, nylon, latex, artificial hair, 20 × 15 × 16 cm / Courtesy Jörg Buttgereit
The German film, radio play, and theater director, author, and film critic Jörg Buttgereit (b. 1963 in Berlin, lives in Berlin) has been called a "trash poet," "punk surrealist," and "underground icon" by various critics. In the 1980s and 1990s, Buttgereit was mostly known for his low-budget art house horror and splatter films. The passionate and uncompromising autodidact produced all of his films independently. For the exhibition, he has loaned several props from his films that he keeps in his private archive. These props are remnants from the films Gazorra / Horror Heaven (DE, 1984), Nekromantik (DE, 1987), Schramm (DE, 1993), and Teenage Make Up (DE, 1998). In the scope of the lm festival Diagonale, the trash cult classic Nekromantik will be shown in a cinema for the first time in over twenty years since it premiered. The photographs accompanying the objects are stills from the respective films.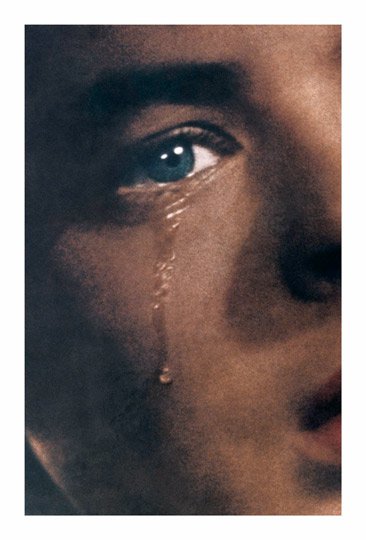 Anne Collier , Woman Crying #9, 2016 & Woman Crying #2, 2016
Both: C-print, 134.6 × 89.6 cm / Courtesy the artist & Anton Kern Gallery, New York; Galerie Neu, Berlin; The Modern Institute/ Toby Webster Ltd., Glasgow; Marc Foxx Gallery, Los Angeles
The works of the US artist Anne Collier (b. 1970 in Los Angeles, lives in New York) can be considered Appropriation Art, dealing with appropriation and shifts in meaning. Collier carefully manipulates selected images taken from the media very slightly by changing the image's point of focus and its frame. In her reflexive and representation-critical works, Collier often explores stereotypical renderings of women and representations of femininity. In one of her photographic series—two examples of which are exhibited here—the artist takes up the motif of the crying woman in film and pop culture. To this end, she makes their tears the focal point of the image and edits the picture so strongly that only a crying eye and the surrounding part of the face remain visible. Another series, for instance, compiles photographs of women who hold a camera in front of their face, thereby thwarting the male-dominated visual regime.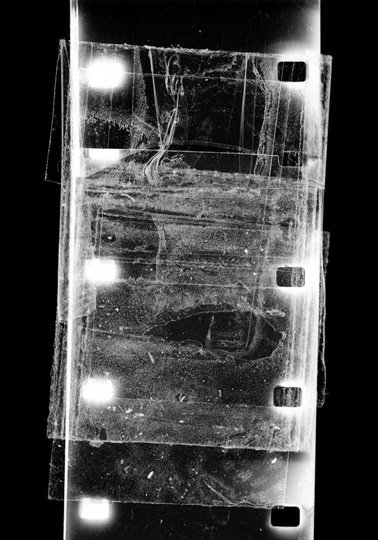 Siegfried A. Fruhauf, Structural Filmwaste, 2003 & Structural Filmwaste. Dissolution 2, 2003
10 photographs, C-print on aluminum, 70 × 100 cm each; HD, b/w, 4 min., loop, sound / Courtesy the artist
The installation Structural Filmwaste by the filmmaker Siegfried A. Fruhauf (b. 1976 in Grieskirchen, lives in Vienna) consists of a series of black-and-white photographs and a digital video. The sharply contrasted photos show extreme enlargements of film cadres, all of which are scratched, torn, scuffed, and dusty. The aesthetics of such signs of wear in analog film material, normally so undesired, become the focus of the serial work. Fruhauf has additionally animated this scanned filmic "waste" and digitally abstracted it to such an extent that only vertical and horizontal lines remain. The rapid abstract animation, underscored by synthetic sounds, is presented in ensemble with the series of photographs.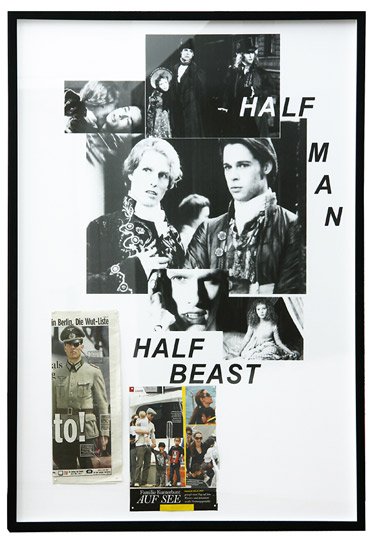 Karl Holmqvist, Untitled (HALF MAN HALF BEAST), 2009
Framed collage, 120 × 87 × 4 cm / Courtesy the artist & Galerie Neu, Berlin
The Swedish artist Karl Holmqvist (b. 1964 in Västerås, lives in New York) works first and foremost with texts. He is inuenced by the experimental poetry of the Dadaists, for example by the "cut-up technique" of William Burroughs (b. 1917 in St. Louis – d. 1997 in Lawrence) but also by graffiti and street art. For him, writing is not only a carrier of meaning, but also a visual and aesthetic phenomenon. Only rarely— such as in his exhibited work—does he employ photographs, combined with words in a collage-like way. The two Hollywood stars Tom Cruise (b. 1962 in Syracuse, lives in Los Angeles) and Brad Pitt (b. 1963 in Shawnee, lives in Los Angeles) are vampires in stills from the horror film Interview with the Vampire (US, 1994, Neil Jordan). Next to these images are pictures showing Cruise as Graf von Stauffenberg, and paparazzi shots of Pitt disembarking from a plane with his kids.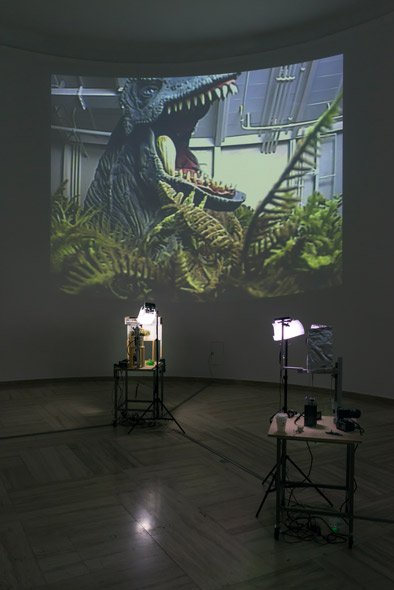 Ryusuke Ito , Realistic Virtuality (Dinosaur Rules), 2002
CCD camera, motor, lighting equipment, mixed media, 60 × 120 × 60 cm (miniature, pedestal) / Courtesy the artist, photograph: Markus Krottendorfer
The Japanese object artist Ryusuke Ito (b. 1963 in Sapporo, lives in Tokyo) lovingly builds detailed models containing moving elements thanks to electric motors. These detail-rich, animated landscapes and spaces in toy format are filmed with mini-cameras mounted on the models and then projected onto the wall in larger-than-life size. In exhibition situations, Ito's installations are always constructed in such a way that the audience can appreciate both the model and the projection at the same time. With this amusing play on scale, the artist not only references cinema, which is of course always "larger than life," but also allows himself to be inspired by it. The dinosaur shifting in the installation alludes to monster films like Godzilla (JP, 1953, Ishirō Honda) or Jurassic Park (USA, 1993, Steven Spielberg) and the flying bed to horror movies like The Exorcist (USA, 1973, William Friedkin).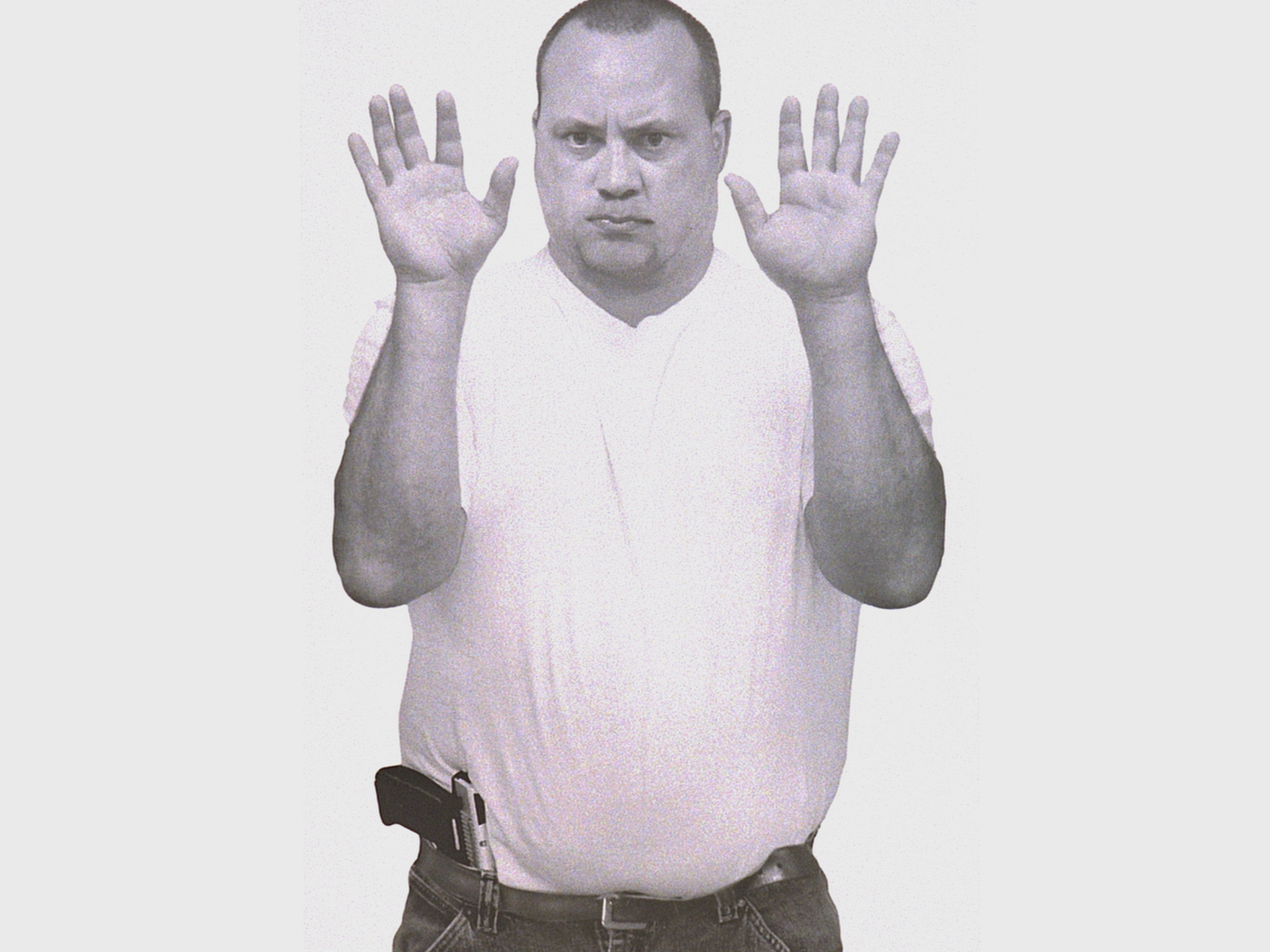 Björn Kämmerer, TRIGGER, 2014
35 mm film (on 16mm film), color, 2 min., silent / Courtesy the artist
In the 16mm lm loop by Björn Kämmerer (b. 1977 in Stralsund, lives in Vienna), individual images of target circles in human form are separated by black lm cadres shown in succession. Originally produced on 35mm film, the filmmaker used only the overexposed first cadre of each shot. Through rapid metric assembly and martial motifs, the viewer is directly targeted and red at. The figures superimposed with cross-hair pointers look directly at the viewer. In the Western tradition of narrative cinema, such direct gazes into the camera or toward viewers are rather unusual, for they remove the audience from the comfortable position as passive observer. Kämmerer acquired these targets during a trip to the US, where these life-size "cardboard dummies" are sold in gun stores for use in target shooting. Shootouts and duels count among the most popular topoi not only in Western movies and crime thrillers. Kämmerer's menacing piece spans a bridge between fiction and documentation, between immersion and reflection.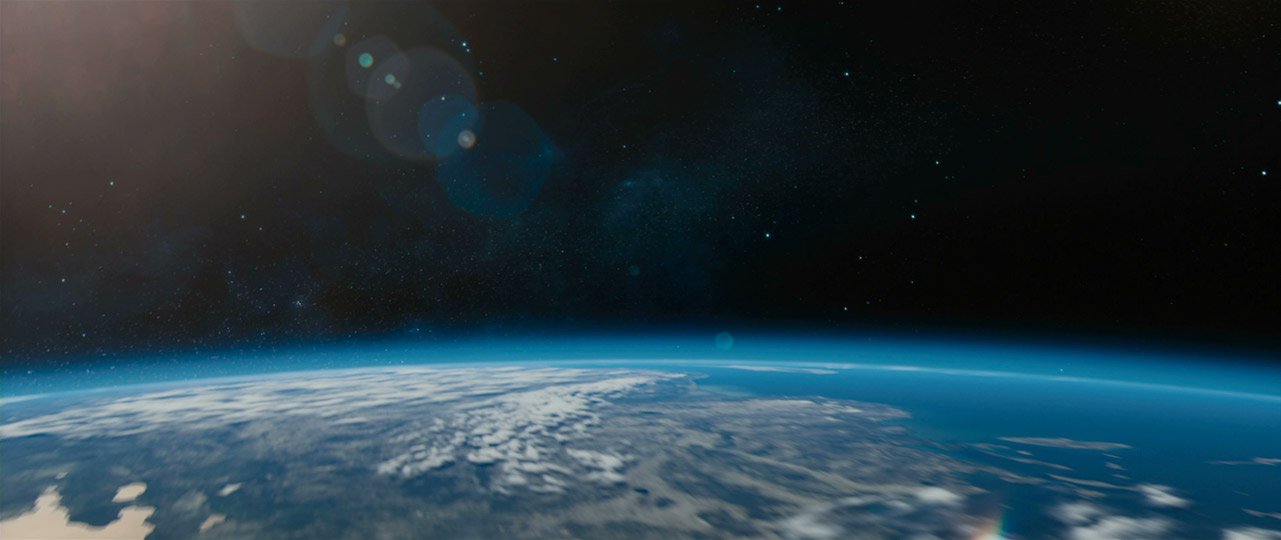 Johann Lurf, Twelve Tales Told, 2014
35 mm film / digital, color, 4 min., sound / Courtesy the artist
The found footage installation Twelve Tales Told by Johann Lurf (b. 1982 in Vienna, lives in Vienna) consists of a dozen animated logos from Hollywood studios like 20th Century Fox, Warner Bros., or Disney. The penetrating nature of these obtrusive and omnipresent openers is heightened to the point of absurdity by the systematic rapid montage of interlaced animations. The humor of this work, posited in the tradition of structural avantgarde film, lies in how Lurf uses the opulent and a formative self-publicity of the largest major studios in the world to assemble a loud, bright, and amusing experimental film.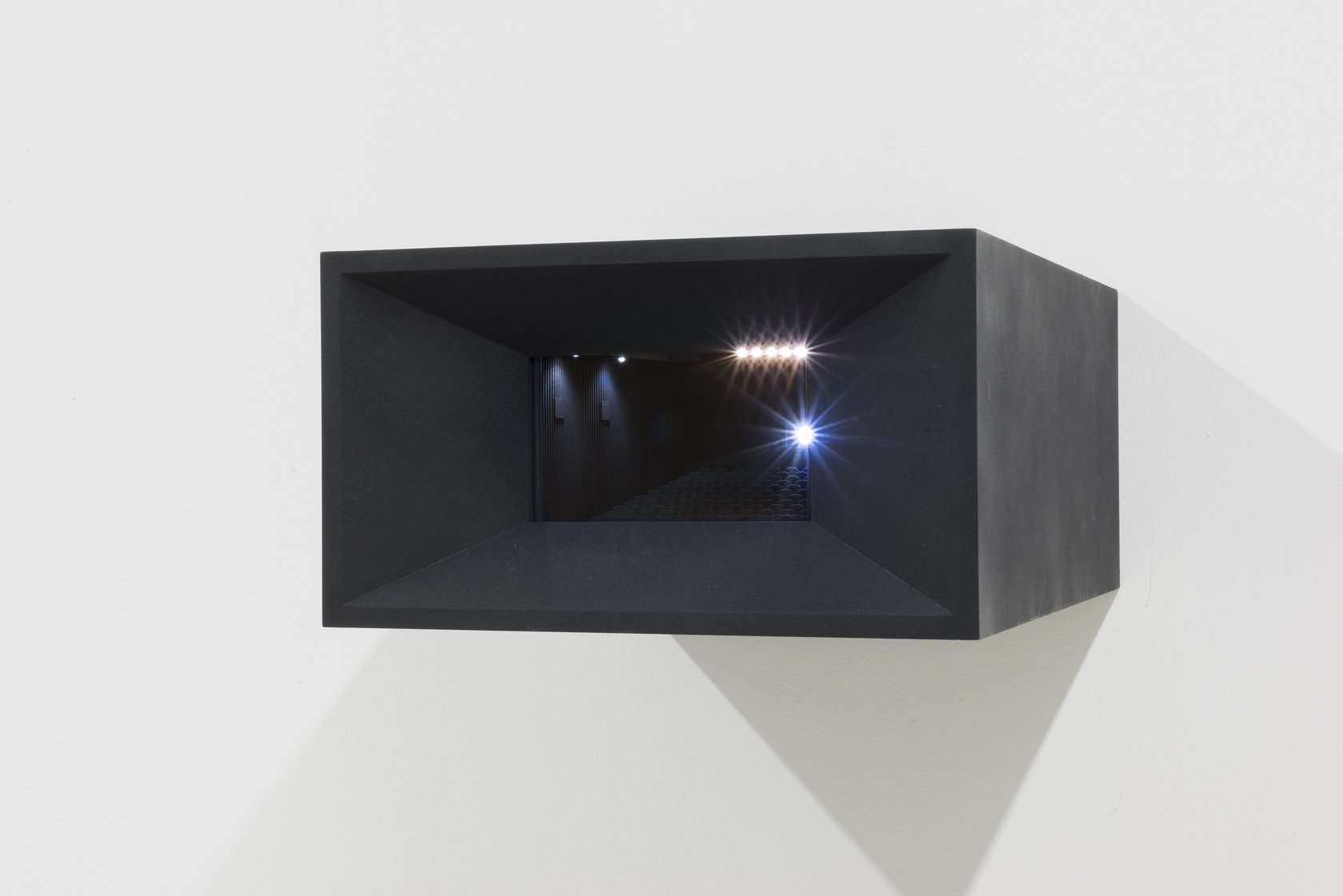 Bernd Oppl, Unsichtbares Kino, 2016
Nylon, LED-Lamp, MDF, electronic equipment, camera, computer, TV, 17 × 30 × 40 cm / Courtesy Artothek des Bundes, Vienna, photograph: Markus Krottendorfer
For his interactive installation Unsichtbares Kino (Invisible Cinema), Bernd Oppl (b. 1980 in Innsbruck, lives in Vienna) reconstructed a model of the legendary movie theater Unsichtbares Kino at the Austria Film Museum in the Albertina in Vienna. This auditorium was designed in the 1960s by Peter Kubelka, filmmaker and co-founder of the museum. His idea of an ideal movie theater was a projection room in which nothing detracts from the screen. Kubelka departed from the tradition of the representative, ornate movie theater to create a totally black and unadorned space. Oppl's architectural model can be viewed from both sides of a wall as a peep box at eye level. First, rows of seats are visible from the position of the screen at the front. Then, moving around the model, one sees one's own likeness as a close-up on the screen of the "invisible cinema." For just a few moments, the viewers become the stars in the world of model cinema.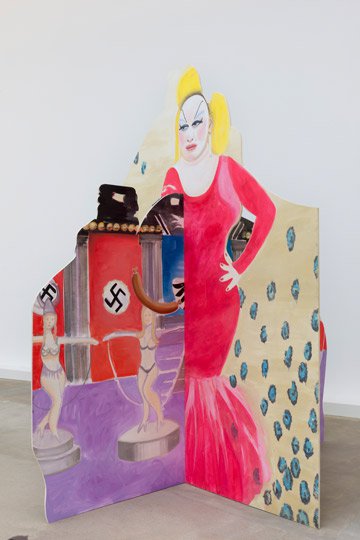 Katrin Plavčak, Neckties & Bitches, 2018
Film, direction, actors: Whity (Rainer Werner Fassbinder, Hanna Schygulla); The Producers (musical in film: Springtime for Hitler and Germany, Mel Brooks); Divine (div- erse films, John Waters); Godzilla (Ishiro Honda), oil on poplar wood, 245 × 170 × 250 cm / Courtesy the artist & Galerie Mezzanin, Geneva, photograph: Markus Krottendorfer
The painter Katrin Plavčak (b. 1970 in Gütersloh, lives in Vienna), who grew up in Styria, has created five large-format sculptures specially for this exhibition, featuring different characters from various decades in lm history. Each group of figures is devoted to a specific theme: transformation, labor, outsider, science and failure, and wild women. Irreverently and with much humor, the artist has Woody Allen meet Darth Vader, Hedy Lamarr meet Godzilla, and so forth. These fictional characters from film history have long become ingrained in the collective memory of Western societies. With this work, Plavčak references certain kinds of movie advertising, such as the "cardboard dummies" set up in cinema lobbies or a fixed to movie theater façades.

Eric Rondepierre, The Rope, 2013, Belle de jour, 2013, Frenzy, 2013, Breakfast at Tiffany's, 2014, Charade, 2013, Shining, 2014, The man who knew too much, 2013
All: Color print on aluminum framed by a black wood, various dimensions / Courtesy the artist, photograph: Markus Krottendorfer
In his Background series, the French photographer Eric Rondepierre (b. 1950 in Orléans, lives in Paris) has arranged interiors from masterpieces of film history to create uncanny interior spaces devoid of people in a panorama format. Due to the absence of actors, attention is drawn to the purposeful design of interior architecture, the artificiality of studio buildings, and the ambient lighting. Each room has its own character and tells its own story, even if no person is present there. The importance of set design tends to be underestimated in general, for critics and audience alike only rarely take note of it. By eliminating the performers, Rondepierre directs attention to the "backgrounds" and thus places them center stage.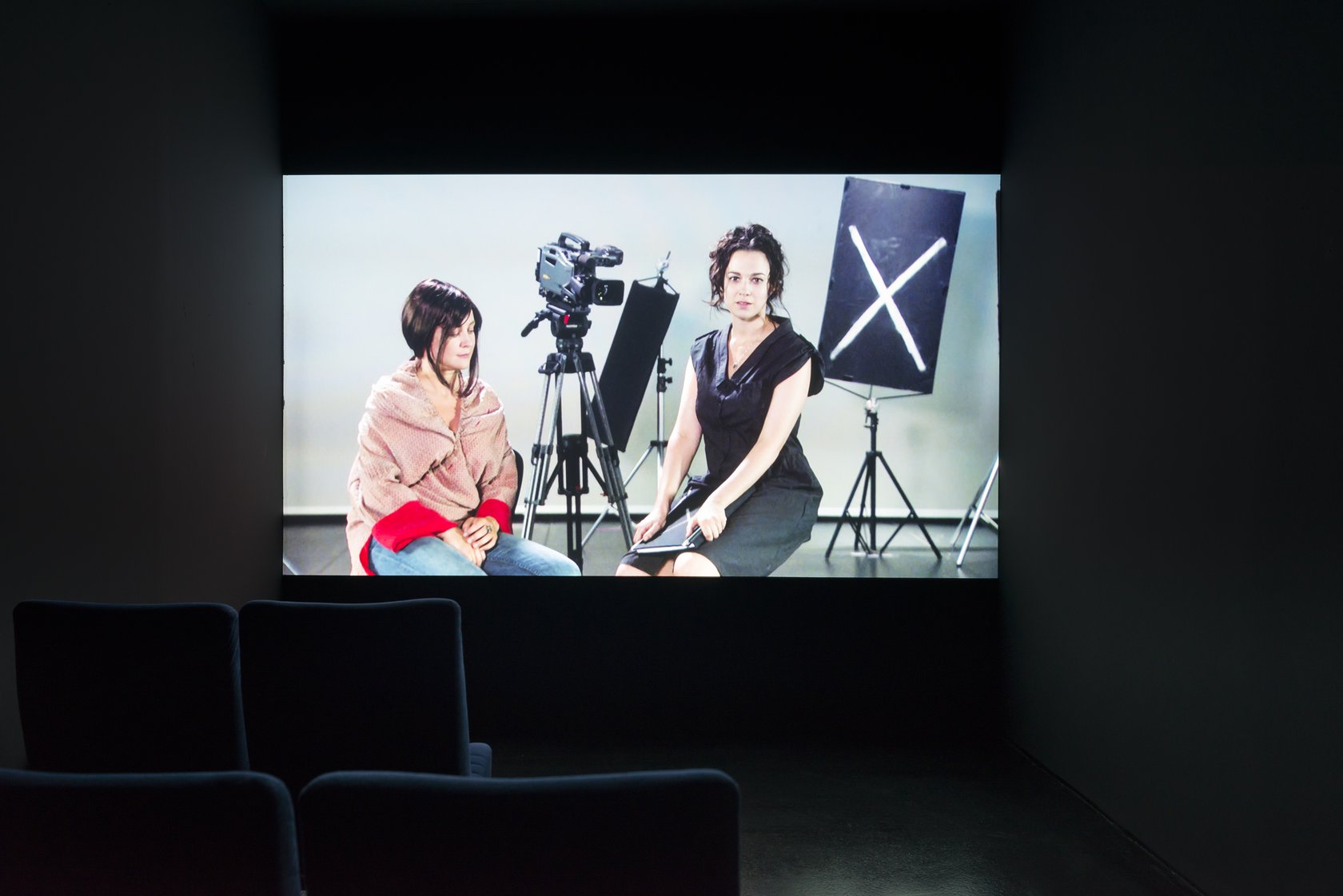 Constanze Ruhm, X Love Scenes, 2007
Video loop, color, 58 min., sound / Courtesy the artist, photograph: Markus Krottendorfer
The point of departure for the film X Love Scenes by Constanze Ruhm (b. 1965 in Vienna, lives in Vienna) is the primal trope of cinema which begins with Thomas Edison's film The Kiss from the year 1896: the filmic convention of the love scene, here staged as undissolved, trauma-filled rerun. Working on film set is an actress, a female director, and a script girl; the male protagonist is absent. He is replaced by a mark—an "X" in white chalk— against a black lighting banner. While the script girl reads the text of the missing actor, the actress, whose character is based on Giuliana from Michelangelo Antonioni's Il deserto rosso (Italy, 1964), plays her love scene opposite a gap. The role of the script girl goes back to Nana from Jean-Luc Godard's Vivre sa vie (France, 1962). The "other side" of the gaze toward the "lover" is choreographed as a shot toward the production apparatus as an imaginary off and thus as a reverse shot vis-à-vis the desire indelibly embedded in the filmic love scene, here coming face to face with empty space.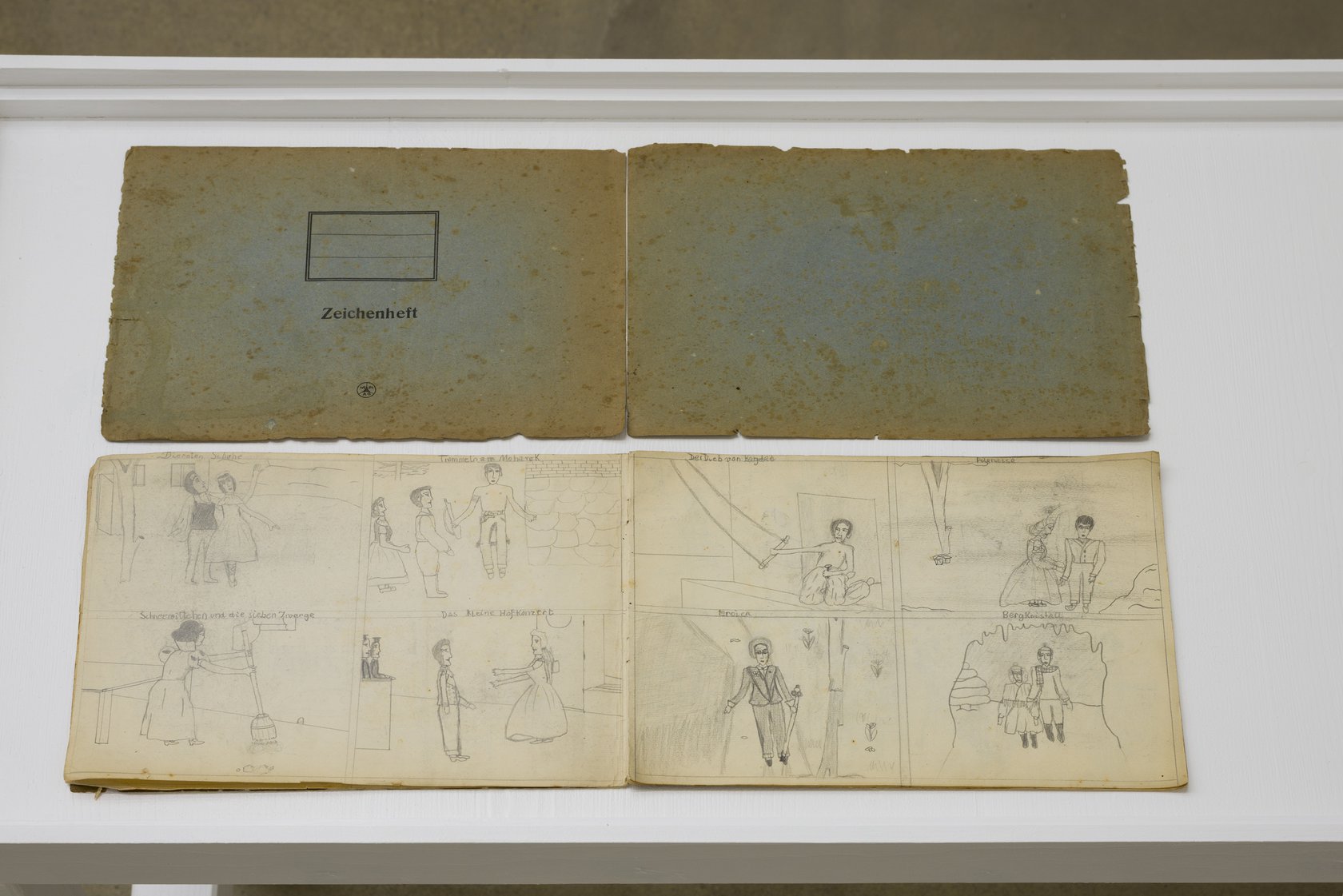 Hans Scheugl, Childhood drawings, 1949
2 notebooks, 21 × 31 cm / Courtesy the artist, photograph: Markus Krottendorfer
At the age of nine, the experimental filmmaker and author Hans Scheugl (b. 1940 in Vienna, lives in Vienna) made drawings of films that he had seen at the movie theater. Each film was captured as a drawing in a school notebook, titled with the name of the lm. In each case, Scheugl drew from memory a certain scene that had impressed him. The fact that he kept the notebooks over such an extended period is explained by Scheugl as a desire to keep an archive of his film-related memories. His love of cinema has lasted a lifetime.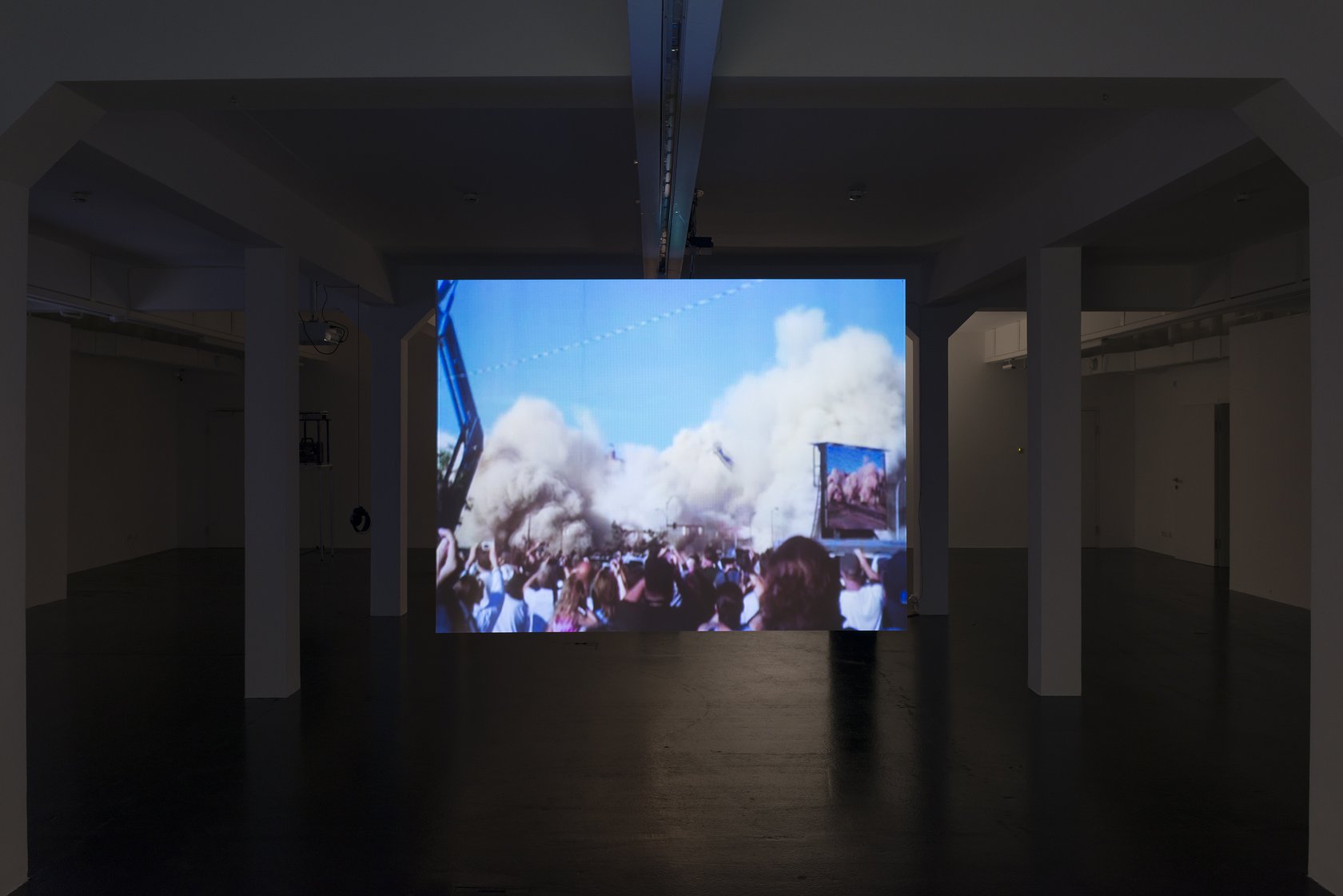 Viktoria Schmid, W O W, 2018
Video loop, color, 2 min., sound / Courtesy the artist, photograph: Markus Krottendorfer
The demolition of a building complex belonging to the Eastman Kodak Company in Rochester, New York, where analog film material was manufactured, takes center stage in the video installation by Viktoria Schmid (b. 1986 in Neuhofen/Ybbs, lives in Vienna). The company, which at the time was the global leader in the production of analog film and photo material, and the largest employer in the region, staged the demolition of the building as a spectacle for the public, although the specta tors on site were mostly former employees who themselves had worked at this very plant. The video artist reassembles the private video material found on YouTube and plays it backwards. Thus, the loop presents again and again a newly emerging lm factory out of the impressive ash cloud from the explosion. Even the soundtrack runs backwards, which makes no acoustic difference for the title-lending and oft-heard "Wow."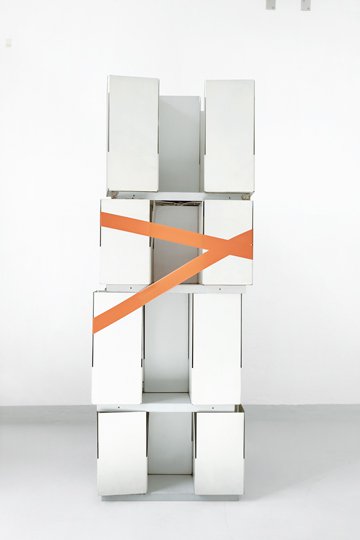 Michaela Schwentner, Figures (Women Under Influence), 2016
Photographic series, 5 Fine Art Prints, 72 × 102 cm each / Courtesy the artist, photograph: Markus Krottendorfer

Michaela Schwentner (b. 1970 in Linz, lives in Vienna) taps into the canon of auteur lm for her five- part color photo series, drawing on iconic female characters. Here, she attempts the following transformation: unusual everyday items that resemble film architecture appear in the print while female characters are symbolized by adhesive tape with the color of the tape strip correlating with the respective costume worn in the movie. The artist references certain scenes from well-known films and translates the movements of the actresses into object assemblages, the adhesive tape picking up each sequence and "replicating" it on the objects. In this way, an entire film scene is densified to a single image. The everyday objects, which are purposefully shabby, starkly contrast the glamour of the female stars, serving as role models. For Schwentner, the assemblages themselves, in turn, serve as a model for a conceptual and enigmatic photo series.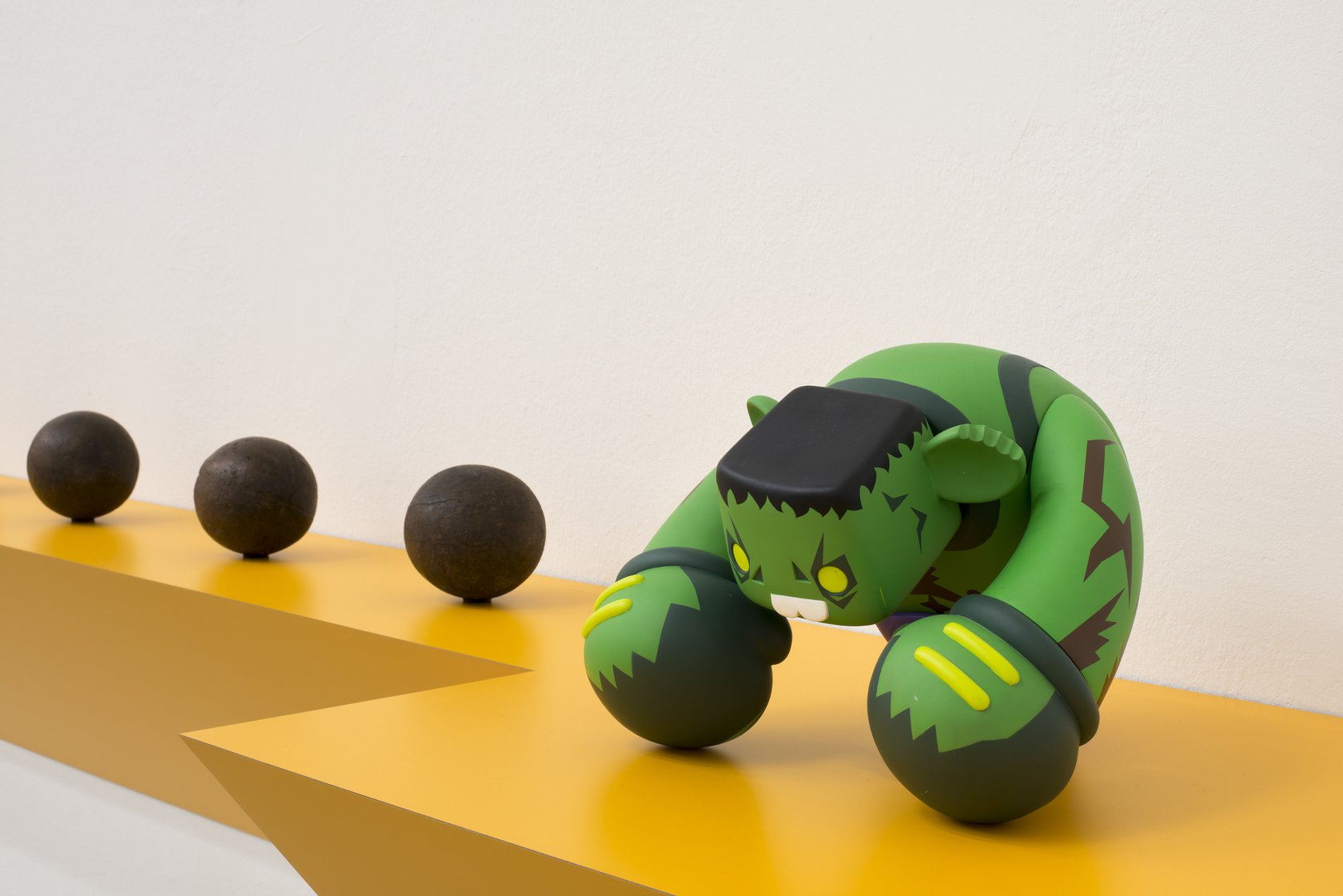 Haim Steinbach, Untitled (7 bocci balls, Hulk), 2012
Plastic laminated wood shelf, 7 wood bocci balls, vinyl Hulk figure, 89.5 × 294.7 × 55.9 cm, unique / Courtesy Galerie Laurent Godin, Paris, photograph: Markus Krottendorfer
Haim Steinbach (b. 1944 in Rechovot, lives in New York) works predominately with mass products and ready-mades, but also with natural and ethnological objects that he collects and arranges. He investigates the psychological, aesthetic, cultural, and ritualistic aspects of his objects, which he then places on colored shelves in humorous combinations. The figure of the green monster Hulk was brought into the world in 1962 for comic strips. Then, in the late 1970s and early 1980s, a TV series of the same name was broadcast. In the 1990s, the character was rediscovered by Hollywood, and at present appears in different superhero films and computer games. The action figure Hulk as taken up by Steinbach is a reference to the permeability of mass media and the various utilization contexts in contemporary consumer society.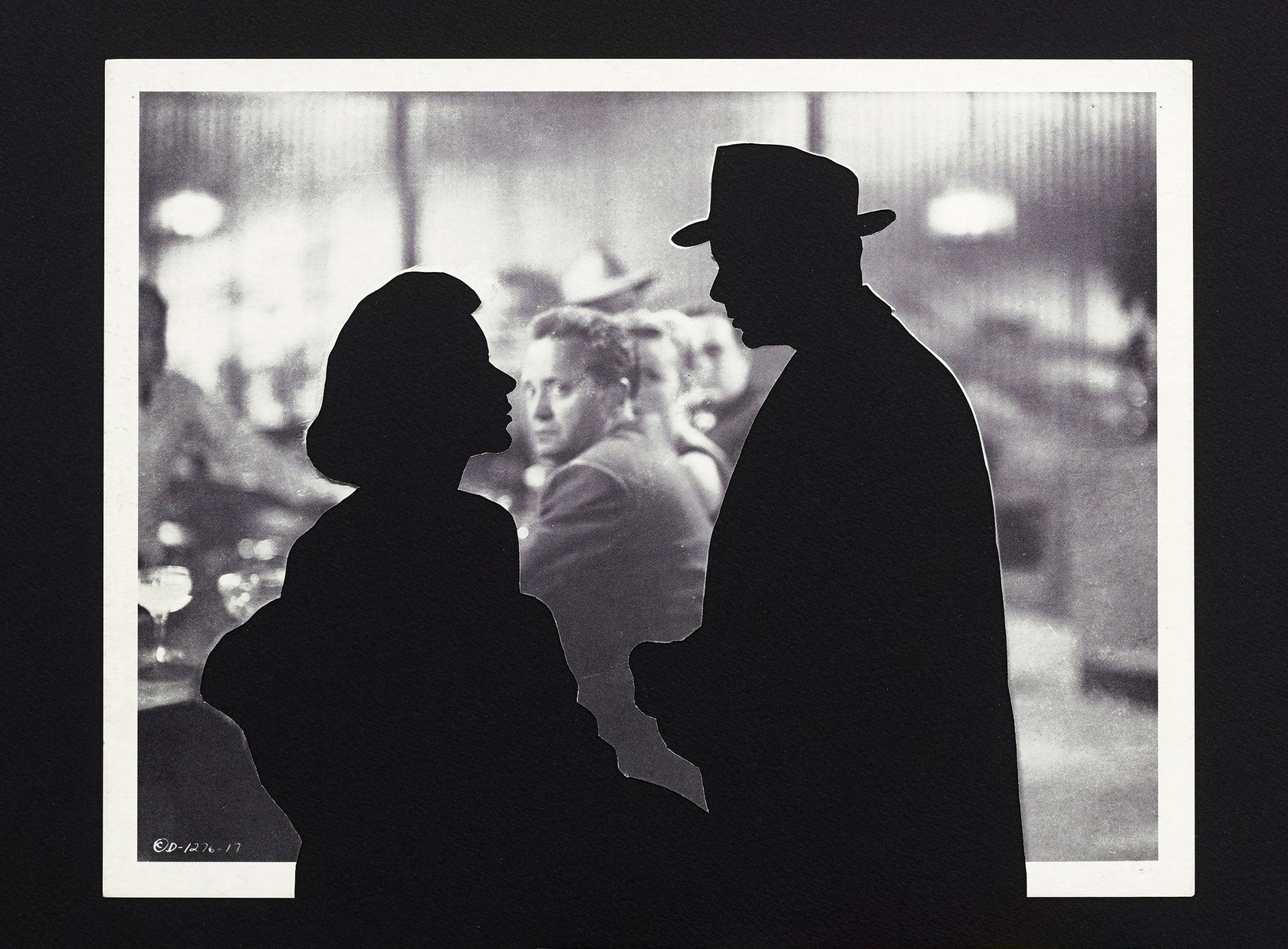 John Stezaker, Shadow XXVII, 2013
Photo collage, 21.8 × 28.3 cm / Courtesy Stolitzka Collection, Graz
The oeuvre of the British conceptual artist John Stezaker (b. 1949 in Worcester, lives in London) is composed of photo collages. As source material he likes to use postcards and portraits of actors from the first half of the twentieth century. His collages are usually created from two superimposed images brought into unique constellations. In the exhibited works, Stezacker placed landscape postcards over the portraits of actors, concealing their gaze. The images are adjusted in such a way that the motifs appear to flow into each other despite the sharp, clear edges. The interventions are simple and minimal, yet also efficient and effective. The surreal appeal of this tableau is often equally ambiguous, oscillating between uncanny and amusing.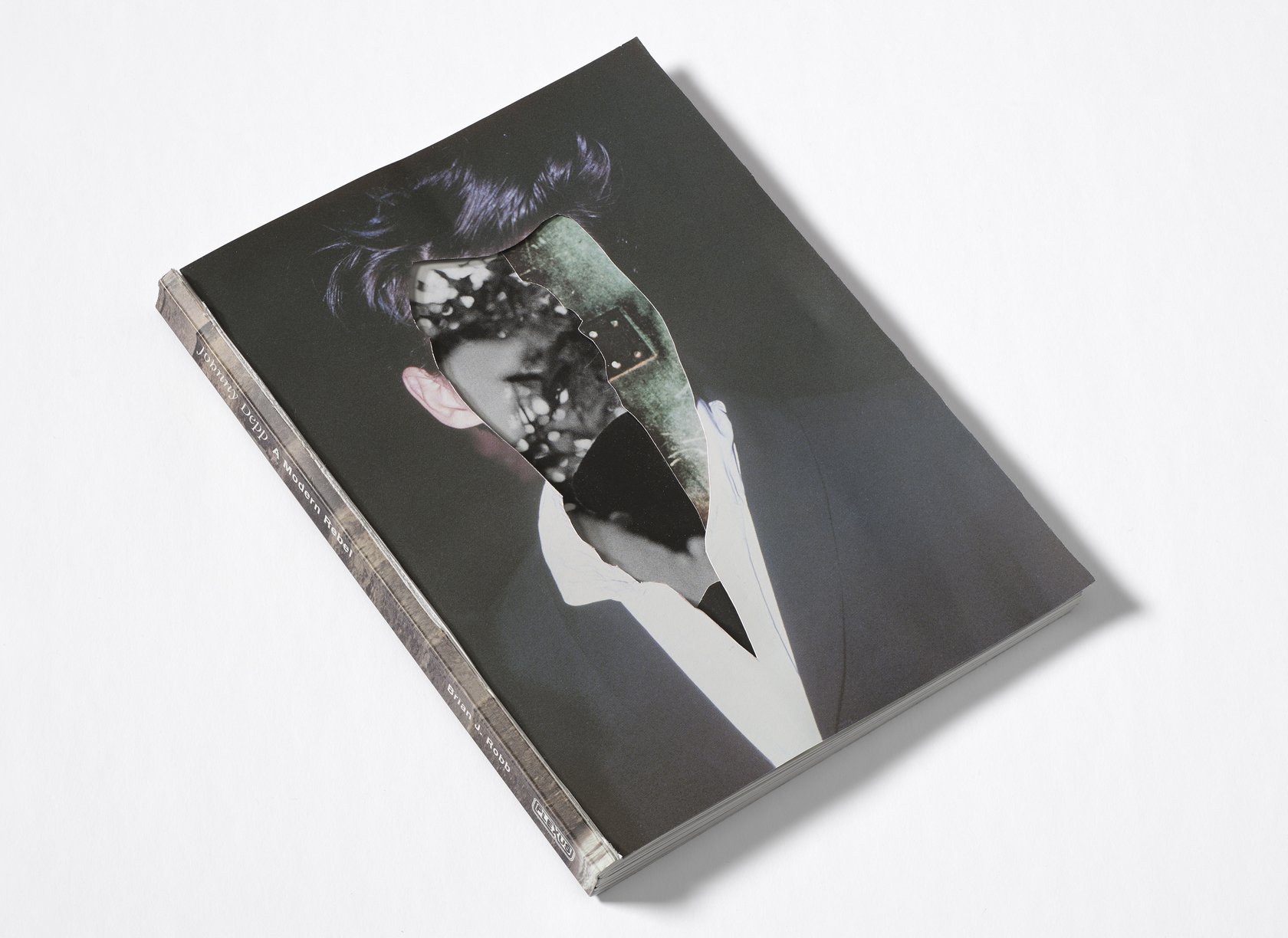 Mika Taanila, Down from the series Film Reader, 2017

Prepared cinema book, 23 × 17 × 0.3 cm / Courtesy the artist & balzer projects, Basel, photograph: Johnny Korkman
The Finnish artist, filmmaker, and producer Mika Taanila (b. 1965 in Helsinki, lives in Helsinki) draws on film books as raw material. Through precise, destructive interventions, he transforms these specialized books into three-dimensional art objects that are both collages and small sculptures. Some of these now antiquarian books have significantly influenced the historiography of film and almost reached cult status themselves. In the Film Reader Series, the material and object character of the book medium is subject to negotiation, the body and the binding remaining intact, which allows the books to stay identifiable as such. The title and the topic of each respective nonfiction book determine the type of intervention. In the exhibited work series, Taanila transforms picture books about popular movie actors into "multi-layered" collages—in both a literal and a figurative sense—building on Dadaist and Surrealist traditions.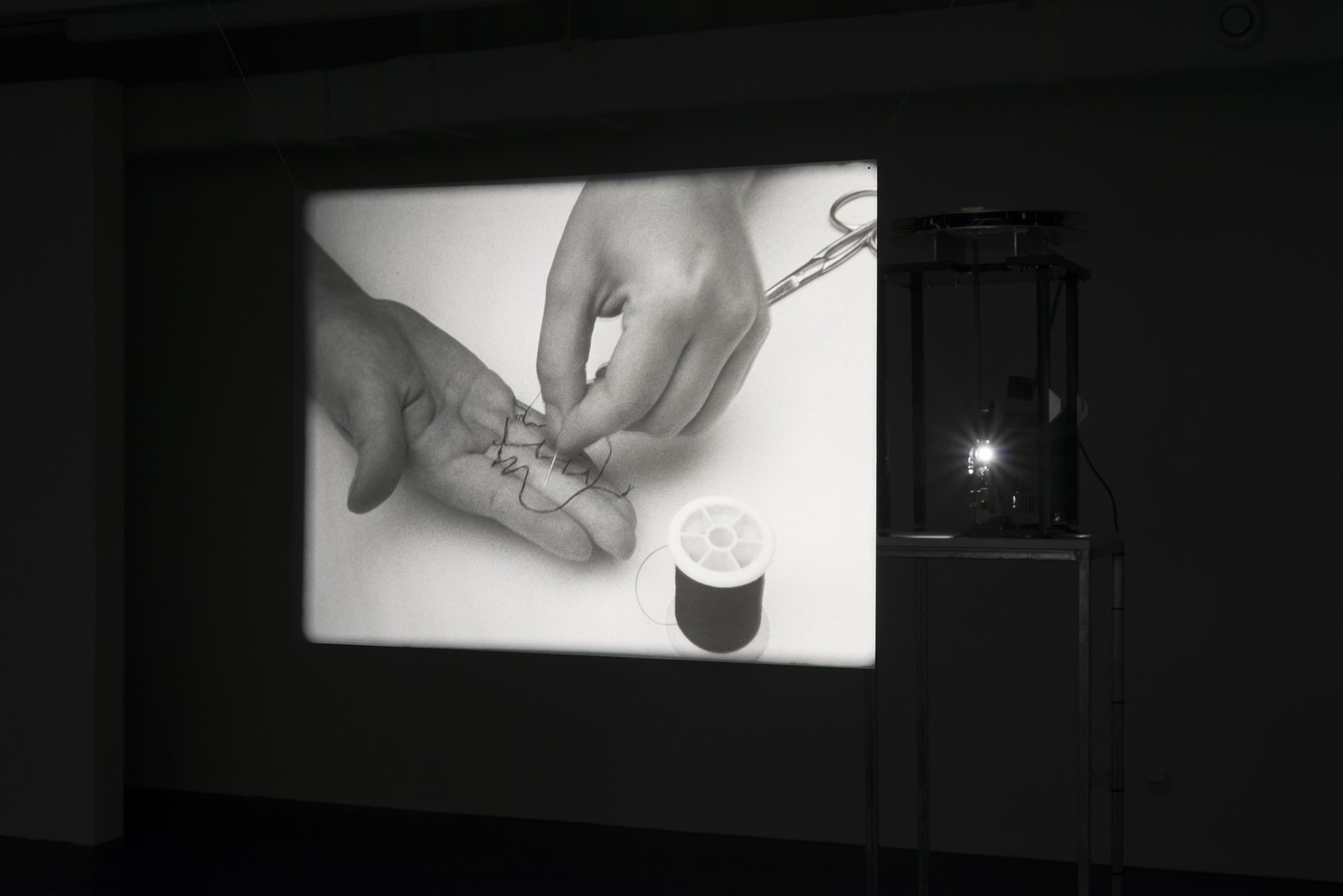 Antoinette Zwirchmayr, Schliere im Aug, 2011

16 mm lm, b/w, 2:50 min., silent; typeface on paper, 20.5 × 12.5 cm, behind glass; typeface on 16 mm lm / Courtesy the artist
In her work Schliere im Aug (Floaters in the Eye), the artist and filmmaker Antoinette Zwirchmayr (b. 1989 in Salzburg, lives in Vienna) employs a poem by the poet Paul Celan as her starting point. The poem is printed in Braille and in the normal Latin alphabet—in German—then mirrored on pages of a book, as well as punched into 16mm strips of film. The inscribed sheets are presented horizontally on a table behind glass, the filmstrips on a light table. Next to them, a 16mm lm plays in a loop, showing how the artist sews the fingers of her other hand together with a needle and thread. In this complex work, Zwirchmayr negotiates explorative questions related to perception and translation. Here, tactile and visual sensations are played off against each other and familiar means of interpretation challenged.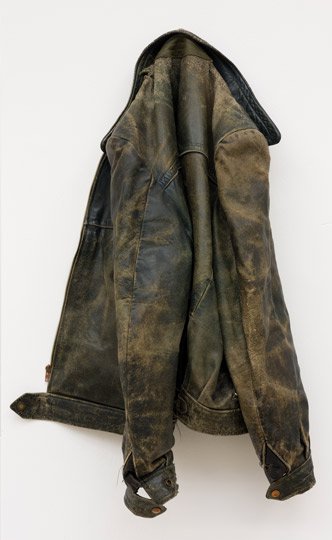 Leather jacket by Kurt Kren, ca. 1970

Courtesy SYNEMA – Gesellschaft für Film & Medien, Vienna
The filmmaker Kurt Kren (b. 1929 in Vienna, d. 1998 in Vienna) was one of the most important representatives of the postwar avant-garde in Austria. He was particularly known for his very special quick-film-cutting-method, which he used to assemble his films frame for frame, based on already finished graphic scores sketched on graph paper. He collaborated with the Viennese Actionist Günter Brus (b. 1939 in Ardning, lives in Graz) and Otto Mühl (b. 1925 in Mariasdorf, d. 2013 in Moncarapacho). Kren was always an uncompromising and radical artist and thus remained truly poor most of his life. He possessed only a few pieces of clothing and wore the same black leather jacket all year round. Today, this legendary leather jacket is in the possession of SYNEMA – Gesellschaft für Kunst & Medien and is stored in the archive of the Austrian Film Museum.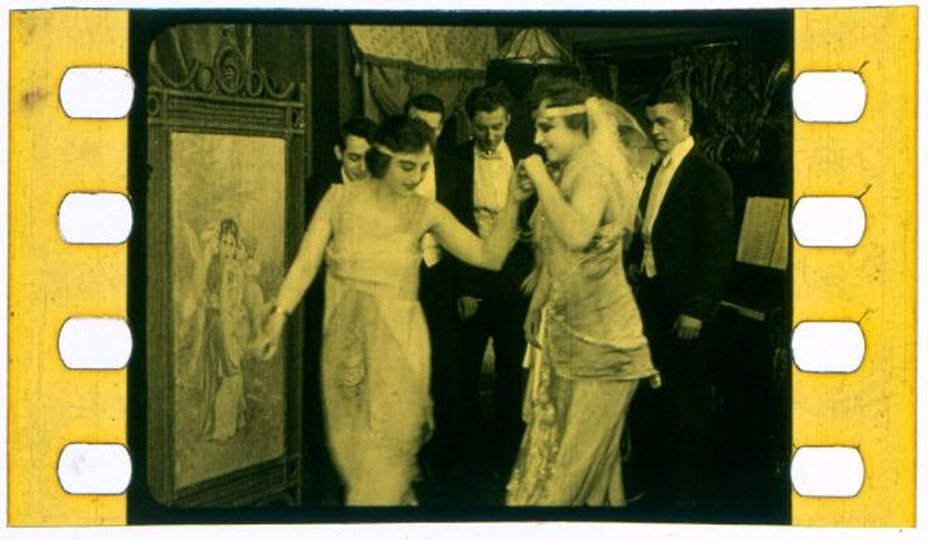 Nitro film cadres, Schlemmer Film Cadres Collection, ca. 1900 – 1950

ca. 2,500 film cadres, digitalized, color Courtesy Austrian Film Museum, Vienna, photograph: Markus Krottendorfer
It was by chance that Edith Schlemmer, the longtime lm archivist at the Austrian Film Museum, received a collection of around 2,500 individual film cadres that a collector had cut out of early film copies. Before the common use of "safety film" (cellulose acetate film) starting in the 1950s, nitrocellulose (short: "nitro") was the material from which celluloid was made. However, such nitro film is easily flammable and has a higher explosive force than gun powder, which in the early years of cinema led to fire disasters and later its replacement with safety film. For this reason it is impossible to show the original nitro film cadres in the exhibition. Instead, they are presented on a monitor as a "slideshow" after being enlarged. Many specifics about early cinema can be discerned from these historical single frames: especially remarkable is the fact that the vast majority of the film stills are in color rather than black and white. The silent films were either laboriously colored by hand, frame for frame, or dyed according to certain color codes depending on mood and time of day—for example, nocturnal scenes were shaded blue, love scenes red, and daytime exterior shots yellow.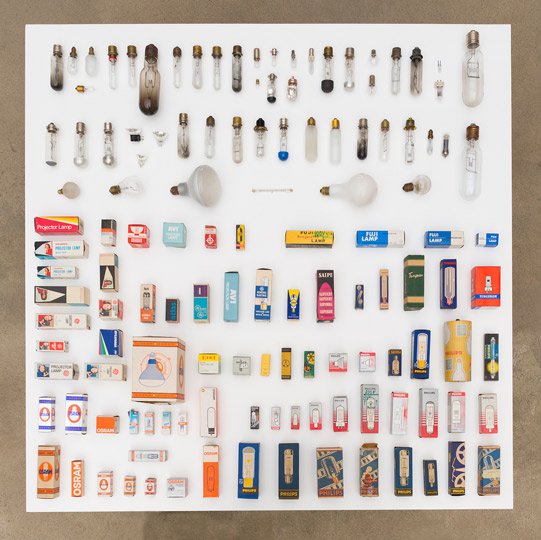 Archival materials

Courtesy Austrian Film Museum, Vienna, photograph: Markus Krottendorfer
Found in the archive of the Austrian Film Museum are not only films, but also many objects that have been collected over the course of time. A number of selected items are presented in display cases, such as old film canisters, uniforms of amateur filmmakers, or notebooks created by fans, featuring newspaper clippings of film stars. An extensive collection of different bulbs removed from various types of historical film projectors will also be shown. Love for cinema has many faces and can materialize in a range of forms. As such, the individual collections of the Austrian Film Museum convey not only an objective and scholarly history, but also the manifold passions and subjective interests of the people working with film's heritage at the museum every day.